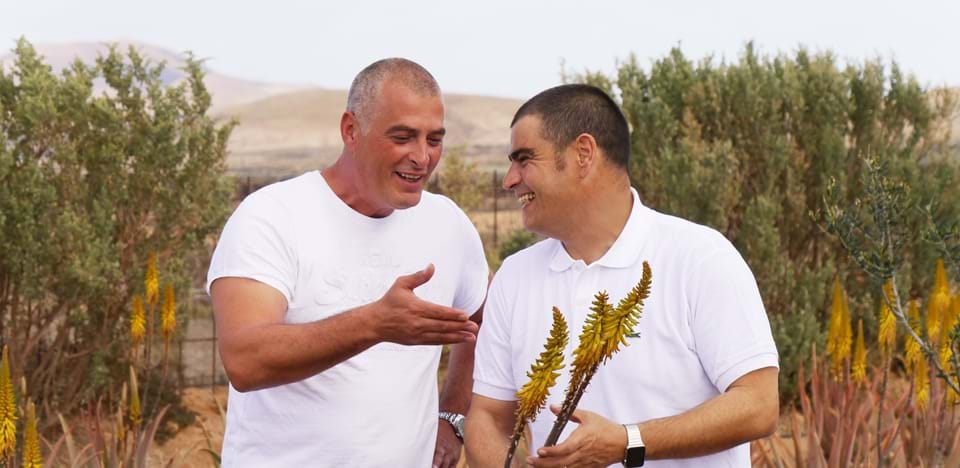 Welcome to Aloe Vera Fresca di Fuerteventura
L'AloeVera Fresca di Fuerteventura was founded in 2006 in Betancuria by Luciano Candelotto with a very clear aim: to produce genuine quality Aloe Vera products and to purchase them directly, without intermediaries.
With the opening of another small shop in 2009 in Costa Calma by Marco Buonocore, it quickly became clear that many customers significantly value good advice and the best quality of products.
One of the main problems that we faced from the beginning was how to achieve the highest quality standards in the production stage. The Aloe Vera extract was produced at the Tiscamanita factory and then shipped by boat to the mainland, in Alicante, for further processing. All our products were made there. Due to the growing demand and the high transport costs, in 2011 we decided to build the first cosmetic laboratory in Fuerteventura and entirely make our own products.
Today L'Aloe Vera Fresca is a limited liability company (S.L.) with more than 120 employees and numerous branches in Fuerteventura, Gran Canaria, La Palma, Tenerife and Lanzarote, its own plantations, a cosmetic laboratory, the AloeVera Museum and the Fabrica Shops.
Despite the enormous changes we have experienced, we still keep to the founder's motto: "Quality Instead of Quantity".
Aloe Vera Fresca di Fuerteventura
offers you natural cosmetics of the highest quality made from fresh Aloe Vera Barbadensis Miller juice. Each of our more than 50 products of our catalogue combines the latest scientific knowledge, the highest quality standards and many years of experience.
The Best Quality Directly from the Producer
As a visitor of the Canary Islands, you have the opportunity to discover our products.
Visit one of the Aloe Vera Fresca Infocenters in Fuerteventura, Lanzarote, Gran Canaria, La Palma and Tenerife and attend one of our free presentations to learn about the differences in quality of Aloe Vera plant and the products made with it. Take advantage of the opportunity to test all our products for free in any of our branches.
Your Purchases at Factory Prices
The original products of Aloe Vera Fresca di Fuerteventura can only be purchased at official Aloe Vera Fresca Fabrica Shops and through our website www.aloeveraonlineshop.com.
Convincing Rather than Persuading
As market leaders, we do not use persuasion as a sales technique, that we consider to be very aggressive. On the contrary, we use very simple tools to convince you: competent and personalised advice, the largest selection of high quality, fresh and genuine Aloe Vera products, at best service and the best prices.

ISO Certification of Aloe Vera Fresca di Fuerteventura
As a company with the highest quality standards for both ourselves and our costumers, we easily comply with all necessary quality standards (ISO), from the production stage in our own laboratory to the final sale.
UNE-EN ISO 9001: 2015 Quality Management Systems
UNE-EN ISO 14001: 2015 Environmental Management System
UNE-EN ISO 22716: 2007 Cosmetics- Good Manufacturing Practices (GMP)